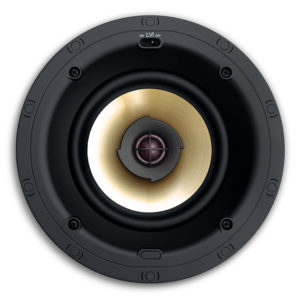 KIN IC81/IC61
Stealth That Draws Attention
Kin Architectural IC61 and IC81 seamlessly integrate into any living space but their stunning performance will inevitably draw attention. Due to their remarkable 75-degree dispersion these speakers are easy to place in any room and can play much larger room envelopes than most architectural speakers. Totem's signature powerful bass, smooth highs, and natural vocals are evenly spread throughout the room. A Low Volume Intelligibility switch even ensures that sound is as rich and detailed in applications where low volume listening is required.
They intermix harmoniously with any existing traditional, on-wall, or architectural Totem speaker for a variety of multi-channel options. Kin Architectural models have stainless steel, magnetic grilles and hardware so they're weather resistant and ready for the outdoors under covered areas and soffits with the use of the optional Acoustic Back Can.
Discover your Kin Architectural and expand your musical experiences.
PRODUCT INFORMATION
FEATURES
Design features
– High-torque, robustNylon dogs which can accomodate double layers of drywall
– 75-degree dispersion
– Unified framework shield
– Paintable neodymium-activated stainless-steel grills
– Stainless steel, weather resistant hardware
– Shallow profile
Technical features
– Customized polypropylene woofers
– Pivoting tweeter faceplate
– Low Volume Intelligibility equalization
– Gold-plated terminals
– Multiple accessories available
Optional Accessories
– PCK6 / PCK8: Pre-construction kits facilitate installation before drywall has been installed.
– ABC6 / ABC8: Acoustic Back Cans reduce sound from penetrating adjacent rooms, protects the components from damage causing
– materials, and improves the weather resistance.
– SGK6 / SGK8: Square Grille Kits permit cosmetic finishing touches to suit personal design tastes.
SPECIFICATIONS