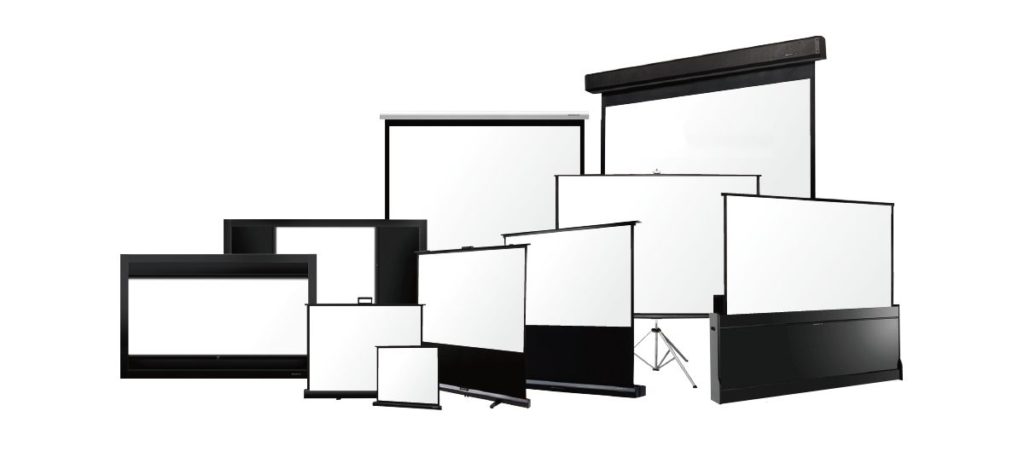 PROJECTION SCREENS
IMPORTED PROJECTION SCREENS
We have a wide range of screens imported from Vega Technologies, Hong Kong. These screens are available under their Indian Brand name of Liberty.
Also for customers looking for high quality screens, we can offer Grandview from Canada, a world renowned brand of Projection Screens.
Most screens used for presentations are in the 4:3 aspect ratio whereas home theatre screens are in the widescreen 16:9 aspect ratio. These screens come in a wide range of sizes to fit rooms of every size and also in different fabrics to suit different needs.
It is very important to choose the right screen as per your application. The quality and material of a projection screen has a big effect on the final projected image.
TRIPOD SCREENS
The screen is convenient to sturdy and easy to carry, benefited from its professionally designed aluminum alloy frame and the solid corner design by helping increase the rigidity of the overall structure.
Only 5 minutes is needed to extend or fold a screen.
Fixing by multiple points on each frame bar, it ensures the screen to be installed flat and winkle-free.
SIZES AVAILABLE
1. 4ft x 6ft
2. 5ft x 7ft
3. 6ft x 8ft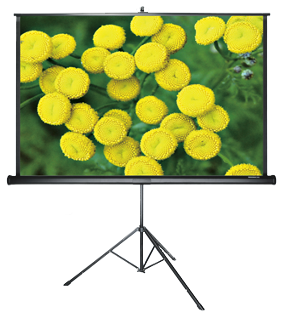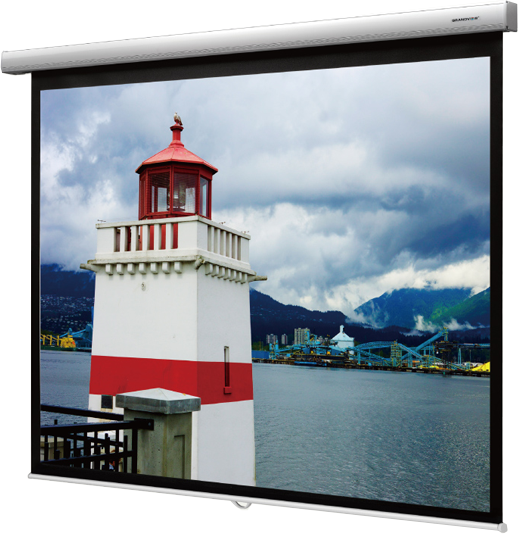 MANUAL WALL MOUNT SCREENS
SIZES AVAILABLE:
1. 4ft x 6ft
2. 5ft x 7ft
3. 6ft x 8ft
4. 8ft x 10ft
5. 54″ x 96″ ( 16: 9 aspect ratio )
6. 59″ x 105″ ( 16: 9 aspect ratio )
7. 74″ x 131″ ( 16: 9 aspect ratio )
These screens have insta lock mechanism which enables you to stop the screen at whatever height you want. To release, simply pull slightly and release, and the screen retracts into the elegant casing automatically.
MOTORIZED SCREENS
SIZES AVAILABLE:
1. 4ft x 6ft
2. 5ft x 7ft
3. 6ft x 8ft
4. 8ft x 10ft
5. 9ft x 12ft
6. 54″ x 96 " ( 16: 9 aspect ratio )
7. 59″ x 105 " ( 16: 9 aspect ratio )
8. 65″ x 116″ ( 16: 9 aspect ratio )
9. 74″ x 131″ ( 16: 9 aspect ratio )
These screens come with a cordless remote control and are available in both 4: 3 and 16: 9 aspect ratios.
FIXED FRAME SCREENS
Available fabrics are:
1. Matte White Fabric
The matte white fabric is compatible with every projector and for every application. With a wide 170 degrees viewing angle and also a special material that helps prevent any permanence of light from the rear, it is the most commonly used screen fabric.
2. Acoustic Woven Fabric
This fabric is a woven mesh fabric, ideal for concealing the speakers behind the screen. It gives a superior effect compared to a traditional acoustic fabric.
3. Silver/ Grey Fabric
This fabric offers a lower gain of 0.8 and reduces the viewing angle to 140 degrees. However it enhances contrast levels and is useful for applications where the focus is less on brightness and more on contrast.
CURVED FIXED FRAME SCREENS
Designed for Optimal Viewing
Grandview's Large-Flat Permanent Fixed-Frame is designed for the most precision and enthusiast oriented applications. It features an advanced aluminum structure with the goal of creating an image made to fit the natural curve of the human eye. The Design is created to eliminate problems caused by different distances between the projector and the screen. This screen brings high definition viewing to a high level.
4 Sided Tension Design
The steel tension bars along with the fixing lugs stretch and tightens. The screen fabric for is to be completely flat and wrinkle-free. The tension can be adjusted to ensure a evenly tensioned surface.
More Accurate, Realistic, A feast for Your Eyes
Based on the feature of eyeball to achieve high definition, and balance the focus of screen with purpose of achieving perfect effect between screen image and visual experience.
More Uniform, Detailed, Taking you into your Film World.
Based on the projector's sphere to make the image uniform and perfectly focused.